Colman will take over from Foy following the Crown's second series
Broadchurch superstar Olivia Colman will be acceding to the throne within the Crown, a series spokesperson has proved.
She will dominate from Claire Foy, who performs Queen Elizabeth II in the early years of her reign, in periods three and four of the show.
Foy, who have earned a Golden World for the part, has previously said she was aware she would only maintain two series.
Colman is likely to be observed in the role from 2019. It's yet to be disclosed who'll play her Prince Philip.
A spokeswoman for the show said the registration service had verified periods three and four and this Colman was "confirmed to star".
'Reincarnated role'
Former Doctor Who actor Matt Smith happens to be starring as the Duke of Edinburgh.
He and Foy will soon be seen in the next series of the show, scheduled for release in December.
"This is the last stint," Foy will be seen revealing Graham Norton later in this week's release of his BBC One talk show. "It's over, I'm done.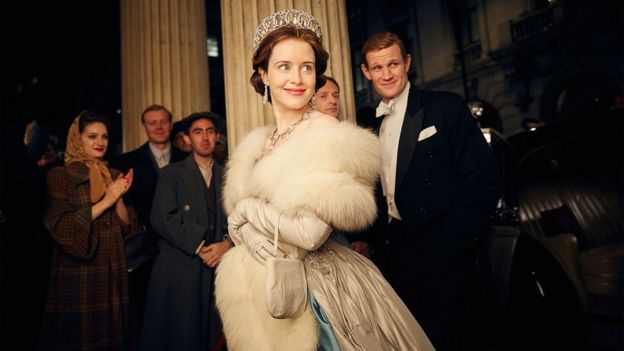 Foy and Smith play the young Elizabeth II and Prince Philip
"I always understood it was only heading to be two series and then your part would be reincarnated and someone else takes over. That is the characteristics of the part."
Colman, who acquired a Golden Earth for The Night Manager and has also appeared in BBC Three's Fleabag, will play the Queen in the years from 1963, when the monarch changed 37.
Another actress is likely to take over to experience the monarch in later life.
Fans were fired up by her casting, with one stating it was "amazing media".
She looks nothing like the Queen, but she's an incredible actress, can't wait. Well done Olivia Colman! #FridayFeeling

— Charles Davie (@chuckdavie) October 27, 2017
Amazing news that Olivia Colman will be the older Queen in #TheCrown for Netflix in Seasons 3 & 4 love this series.

— Masato Jones (@masato_jones) October 27, 2017
Amazing information that Olivia Colman will be the older Queen in #TheCrown for Netflix in Times 3 & 4 love this series.
Evening Standard Television editor Toby Earle echoed many people's opinions, expressing Colman was "already the Queen".
Yeah Olivia Colman is already the Queen

— Toby Earle (@TobyonTV) October 27, 2017
Colman has form starring as royalty. She played out the future Queen Mom in 2012's Hyde Area on Hudson and you will be seen as Queen Anne in next year's The Favorite.
Netflix's drama were only available in 1947 with Elizabeth's engagement to Prince Philip which is expected to continue up for this day.